When you join CLIMB Works for a zipline adventure in Hawaii, you have the unique opportunity to explore one of the most spectacular places on earth! Our tours not only include Oahu's longest ziplines ranging from 500 feet to nearly a half mile long, but tons of fun surprises along the way! Here are just 4 awesome bonus perks of ziplining on Oahu with CLIMB Works:
1. Exciting ATV Ride Up the Mountainside
The adventure on your 3 hour guided zipline tour starts immediately with an exciting ATV ride up the mountainside! Enjoy the 10 minute, 2 mile ride in our 6 passenger ATVs as you cruise to the top of the mountain. Along the journey, you will pass by farms and through the jungle so that you can experience all of the unique inland landscapes that Hawaii has to offer! While Oahu's North Shore is certainly known for its gorgeous beaches, you will be impressed by all of the other incredible scenery surrounding the area!
2. A Taste of Fresh Hawaii Fruit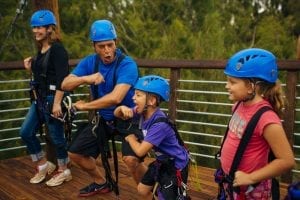 While ziplining on Oahu with CLIMB Works, you will be soaring over Keana Farms, which produces more than a million pounds of produce every year! Some examples of the fruit you will see along the zipline tour include Thai papaya, apple bananas, taro, eggplant and cherry tomatoes. Since your mouth will likely be watering while viewing this delicious fresh fruit, you will be delighted to know that you can taste some Keana Farms apple bananas or cherry tomatoes on the tour!
3. Fascinating Insight Into Hawaii Culture
Our zipline tours not only provide a thrilling adventure for all ages, but the chance to learn more about Hawaii culture! There are fascinating educational exhibits set up along the tour where you can discover Hawaii history, culture and farming. This is a wonderful opportunity to learn how Hawaii has changed over the last few 100 years, ranging from historic Hawaii and the Plantation Era to the modern landscape you see today. You will not only go home with amazing memories of your zipline experience, but knowledge and insight into this incredible part of the world!
4. Stunning Panoramic Views of the North Shore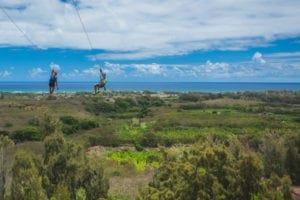 You will find that there is breathtaking scenery around every bend of your Hawaii vacation, but there is nothing like the panoramic views of the North Shore from our zipline tours! When ziplining on Oahu with CLIMB Works, you will be 410 feet above sea level with jaw dropping views of the region's famous beaches, lush mountains and farms. While most visitors just drive up to see the beaches, you have the chance to enjoy a bird's eye view from the mountains! You can bring along your own camera to capture some great photos as long as it is secured with a strap. We also take photos from the most scenic parts of the tour, which are viewable and available for purchase immediately after the tour!
Now that you know the awesome bonus perks of ziplining on Oahu with CLIMB Works, check out all of the details of our zipline tours today to plan your adventure! We look forward to providing you with an incredible experience in Hawaii that you will remember for a lifetime!