Side-by-side ziplines, gorgeous views, sky bridges and more — you'll have it all when you go ziplining at CLIMB Works Keana Farms. We provide our guests with a ziplining experience they'll never forget. Here are 4 reasons CLIMB Works is the best place to zipline in Hawaii:
1. Longest Ziplines in Oahu
We have the longest ziplines in Oahu, Hawaii! On our 3-hour guided zipline tour, you'll zip along lines that range from 500 feet to nearly half a mile long. There are a total of 8 side-by-side zipline runs, so you can enjoy the adventure with a friend or family member by your side! As you zipline, you'll get to see breathtaking views of the North Shore's famous beaches, farms and lush mountains from high above the ground. You won't get this experience anywhere else!
2. Several Adventures Wrapped into One
Another reason we are the best place to zipline in Hawaii is that our guided zipline tour includes more than just ziplines! You'll have several adventures wrapped into one. Our tour begins with an ATV ride up the mountainside. The 2-mile ride takes you past farms and through the jungle, so you'll be able to see the variety of landscapes that Hawaii has to offer. You'll also cross 3 sky bridges and encounter 2 rappels, scenic boardwalks, and other surprises along your journey! Each adventure is designed to challenge you in a safe and controlled way.
3. Guaranteed Safety
The great thing about our zipline tour in Hawaii is that your safety is guaranteed! It's normal to feel a little nervous before ziplining, but you can relax knowing our adventure is completely safe. We have years of experience building and operating courses around the country, and our course is inspected each morning to make sure everything is running smoothly. In addition, we have experienced guides who accompany you on your zipline tour! Our guides have been through hours of extensive training, so they know our course better than anyone. They are also certified in both First Aid and CPR. We've taken all the extra measures to ensure your safety so you don't have to focus on anything but having fun!
4. Help People to "Always CLIMB"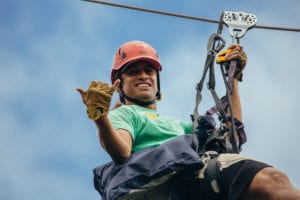 Our motto at CLIMB Works is to "Always CLIMB." CLIMB stands for Challenge. Learn. Inspire. Master. Believe. We want to challenge you to step outside of your comfort zone and help you realize you are capable of doing things you never thought you could. We know that the ziplining experience is different for everyone. Some are overcoming their fears of heights, some are working up the courage to jump off a platform, and others are just trying to race their friends to see who can zipline the fastest. Whatever your goal, one thing is for sure: When you overcome the personal challenges you face on our course, you'll have a new sense of self-confidence. This will inspire you to believe in yourself and keep trying new things!
When you zipline with CLIMB Works, you're in for so much more than just your ordinary zipline tour! Visit our Reservations page to book your adventure and see for yourself what makes CLIMB Works the best place to zipline in Hawaii.