Whether you are traveling on your own to Hawaii to get away from it all or have a few days to spare from a conference in Waikiki, make the most of your time on Oahu with a zipline tour at CLIMB Works Keana Farms! Our 3-hour guided zipline tours offer the perfect opportunity to enjoy the beauty of the North Shore and learn more about Hawaii's rich history and culture! Here are the top 4 reasons why our ziplines in Hawaii are fun for a solo traveler:
1. Meet Other Adventurous Guests
Since our zipline tours consist of a small group and professional guides, this is a unique opportunity to meet other adventurous guests from around the world! During your 3-hour adventure, you can cheer on your new friends as you experience 8 world class dual lines, 2 rappels, 3 sky bridges and other fun surprises! Don't be surprised if it's high-fives all around at the end of your tour to celebrate your adventure!
2. Learn About Hawaiian Culture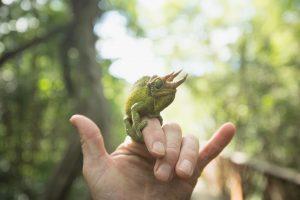 If you always wanted to know about Hawaiian culture but are not interested in a simple history tour, come on over to our ziplines in Hawaii! After all, the tours at CLIMB Works are not only a thrilling experience, but an educational experience as well! Throughout your zipline tour, you will learn about Hawaiian history, culture and farming with a variety of educational exhibits that have been set up along the tour. You will also discover how Hawaii has changed over the last few hundred years by learning about Historic Hawaii, the Plantation Era, and today. Who knew that education could be so fun?!?
3. Explore a Working Farm
Another reason why our ziplines in Hawaii are fun for a solo traveler is because they offer the chance to explore a working farm! While soaring over Keana Farms, you will see apple bananas, cherry tomatoes, eggplant, papaya, taro and much more! The best part is that you will actually get to taste some of the apple bananas or cherry tomatoes during your tour! All of the fruit from Keana Farms, with the exception of the basil, is sold exclusively to Hawaii vendors so you can also enjoy this delicious fresh fruit through the rest of your solo vacation to Hawaii!
4. Take Home Photos of Your Experience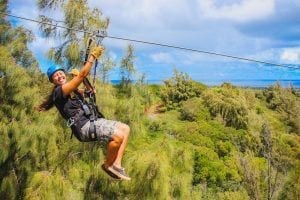 You can take home memories of your experience with CLIMB Works by purchasing photos at the end of your tour! These are professional photos that capture you in action while zipping through the sky on the most scenic parts of the tour! These photographs are the perfect way to remember all the fun you had on Hawaii's North Shore and to share your experience with your family and friends back home!
If you are planning a solo vacation to Oahu, don't miss our ziplines in Hawaii for the ultimate adventure! Check out all of the information about our zipline tour today to learn more about CLIMB Works and to make your reservation!