One of the delightful surprises of the zipline tours at CLIMB Works is that they offer the BEST views of Oahu's North Shore! While most folks simply drive up to see the area's famous beaches, our guests have a special opportunity to enjoy a stunning bird's eye view! Here are the top 4 reasons why our ziplines in Hawaii are the best way to experience the beauty of Oahu's North Shore:
1. Gorgeous Panoramic Views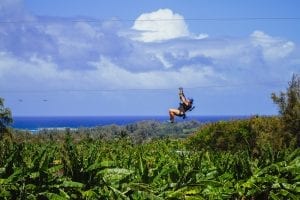 While the North Shore is certainly beautiful from any angle, there is nothing quite like the gorgeous panoramic views from our ziplines in Hawaii! Since our zipline tour starts at 410 feet above sea level, you can enjoy constant sweeping views overlooking the famous beaches, lush mountains and lovely farms! You can even bring a camera along to capture these phenomenal views as long as it is secured with a strap. Otherwise, don't worry as CLIMB Works takes photos of each participant during the most scenic parts of the tour!
2. Plenty of Time to Admire the Scenery
When you take our thrilling zipline tour, you don't have to be concerned about rushing from one spot to the next! Our 3 hour guided tour offers plenty of time to admire the spectacular scenery, and you will even learn about Hawaii's rich history and culture along the way! Between experiencing our 8 world class dual lines, 2 rappels, 3 sky bridges and an exciting ATV adventure to the ridge top, you will have all the time you need to catch your breath and see some of the most incredible scenery in the world!
3. Convenient Transportation From Waikiki
While you can certainly drive your own vehicle from Waikiki, it is tough for the driver to focus on all of the beautiful scenery! Rather than focusing on the road conditions, directions and other drivers, take advantage of our convenient transportation from Waikiki! Our 15 passenger, air conditioned shuttle is available for select tours and offers a wonderful opportunity to relax while enjoying a scenic drive along Oahu's windward coast! The drive takes between 60 and 90 minutes, depending upon traffic, so kick back as we take you to the beautiful North Shore!
4. See Everything on One Tour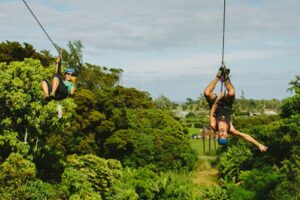 One of the awesome things about our ziplines in Hawaii is that you can see everything on just one action-packed tour! You may have seen other zipline operators who have several tours available and you never know which one to pick! We know that you wouldn't want to miss one fabulous viewpoint of the North Shore, so we have created a single amazing tour where you will get to see everything!
Now that you know why our ziplines in Hawaii are the best way to experience the beauty of Oahu's North Shore, check out all of the details of our zipline tours today to plan your adventure at CLIMB Works! We look forward to providing you with an incredible experience that is guaranteed to be THE highlight of your Hawaii vacation!