The awesome thing about the zipline tours at CLIMB Works is that you not only get to experience Oahu's longest ziplines, but several unique surprises along the way! Whether you want to learn more about Hawaiian culture or enjoy a bird's eye view of the famous North Shore beaches, you will get to do it all on our amazing tour! Here are 5 things that you will enjoy while experiencing our ziplines on Oahu:
1. ATV Adventure to the Ridgetop
Your 3-hour guided zipline tour with CLIMB Works starts off with a fun ATV Adventure to the ridgetop! Our 6-passenger ATVs will take you on a thrilling 10-minute, 2-mile ride to the top of the mountain to get your adrenaline pumping right away! During your uphill journey, you will go through farms and pass through the jungle to experience all the different inland landscapes that Hawaii has to offer!
2. Fresh Fruit from Keana Farms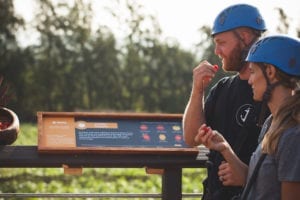 While soaring over Keana Farms, you will notice apple bananas, cherry tomatoes, papaya, eggplant and other tasty produce growing below! Keana Farms produces more than a million pounds of produce each year and is sold only to local Hawaii vendors, with the exception of basil. This means that you can eat this delicious fruit during the rest of your vacation in Hawaii! When joining CLIMB Works for a zipline tour, you also have the chance to taste this fresh fruit during the tour!
3. Spectacular North Shore Views
The North Shore is gorgeous from any perspective, but there is nothing quite like the spectacular views from our ziplines on Oahu! Our tours begin 410 feet above sea level and feature panoramic views overlooking the beaches that have made this area famous! You will also love the lush mountains in the background that bring even more beauty to the region. Whether you are zipping through the air or crossing one of the 3 sky bridges, you will constantly be amazed by the scenery!
4. Fascinating Educational Exhibits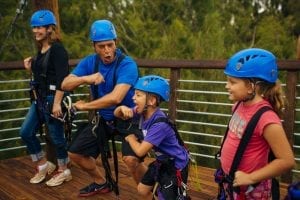 Another one of the things that you will enjoy while experiencing our ziplines on Oahu are the fascinating educational exhibits! We have set up multiple exhibits along the tour so that you can learn about Hawaiian history, culture and farming. Our tours will also educate you on how Hawaii has changed over the last 100 years. If you have any questions during the tour, feel free to ask your friendly and professional guides who will be with you at all times!
5. Photos
We know that you will always want to remember your adventure on our ziplines on Oahu, so we are pleased to offer photos for sale directly after the tour! Our team will take photos of each participant and group during the most scenic parts of the tour, including plenty of incredible action shots! Although you are permitted to bring your own camera, keep in mind that it must be securely attached with a strap at all times for safety.
Now that you know everything you can enjoy during the zipline tours at CLIMB Works, check out all of the information about our ziplines on Oahu today to plan your adventure! We look forward to seeing you soon!