If you have ever heard that "getting there is half the fun," that is certainly true for folks traveling from Honolulu to experience the thrilling ziplines at CLIMB Works Keana Farms! While our ziplines are less than a 90 minute drive from most areas around Honolulu, there are plenty of fantastic places to stop along the way or to visit after your tour to enjoy the magnificent scenery! Here are just 4 scenic stops that you should experience on the way to or from our ziplines in Oahu:
1. Ahupuaʻa ʻO Kahana State Park
While you will see breathtaking scenery on nearly the entire route from Honolulu to CLIMB Works Keana Farms and back, be sure to stop at Ahupuaʻa ʻO Kahana State Park to view the stunning valley of Kahana! This park is open daily and there is no entrance fee, so you are free to check out the two pleasant hiking trails. The Kapa'ele'ele Ko'a and Keaniani Lookout Trail is a 1 mile long loop trail that starts at the Orientation Center and passes two cultural sites, all while offering incredible views of Kahana Bay. The Nakoa Trail is a 2.5 mile loop trail through a tropical rainforest and is named for the koa trees found along the trail.
2. Punalu'u Beach Park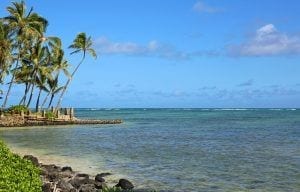 Another scenic stop that you should experience to or from Honolulu is Punalu'u Beach Park! While this beach is sometimes confused with the Punaluu Black Sand Beach on the Big Island, it offers its own distinctive scenery along a thin, narrow stretch of sand. One of the things that makes this a recommended stop is the unique opportunity to enjoy views of the sea among the spectacular backdrop of the mountains. On the northern end of the park, Punalu'u Stream flows into the ocean where you will notice some large rocks that were placed near the water's edge to prevent beach erosion.
3. Laʻie Point
Once you have nearly reached our ziplines in Oahu, you will find the La'ie Point just East of Laie. This is the perfect location to watch waves crash against the rocky coast and to capture some gorgeous photographs. While visiting this location, you also may have the chance to see some cliff jumpers diving off a rock ledge into the ocean! While you can also participate in this activity, there are some serious risks involved so we recommend waiting until our zipline tour for an adrenaline rush! Note that parking is limited as the entrance is at the end of a residential dead end, so just be mindful of the residents when finding a parking spot.
4. Mālaekahana State Recreation Area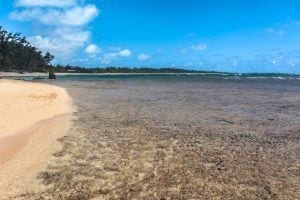 The Mālaekahana State Recreation Area is just a mile away from our ziplines in Oahu! This lovely recreation area offers a gorgeous beach where you can play in the sand or go for a refreshing swim in the ocean. If you brought a picnic along for the trip, this is a great place to enjoy your lunch among the shade of the many trees that line the shore. You will also find convenient facilities such as restrooms and showers.
Of course, the highlight of your journey is the amazing zipline tour that you will experience at CLIMB Works Keana Farms! While we recommend that you drive up the coast to enjoy these scenic stops, you can also take advantage of our transportation option from Waikiki Beach! We look forward to seeing you soon on Oahu's North Shore!