If you're looking for the adventure of a lifetime when you visit Oahu, Hawaii, look no further than CLIMB Works Keana Farms. At CLIMB Works, your adrenaline will be pumping as you soar through the air with views of beautiful beaches, farms and mountains. Nothing can beat this amazing experience. Here are 4 reasons to go ziplining in Oahu during your vacation:
1. Explore Keana Farms
On your ziplining adventure, you'll get to explore Keana Farms! Keana Farms is a working farm that produces more than 1 million pounds of produce each year. When you visit CLIMB Works, you'll be able to explore and learn about the farm as you soar through the air over it. On your journey, you'll get to see papaya, apple bananas, taro, eggplant, cherry tomatoes and more! You'll even get the chance to taste the fresh fruit, which is only sold to Hawaii vendors.
2. Gorgeous Views
Words cannot explain how breathtaking the views are when you go ziplining in Oahu. You'll be able to see North Shore's famous beaches from a bird's eye view! You'll have constant panoramic views of the beaches, mountains and farms, making it an incredible scenic adventure. You won't be able to see anything like it anywhere else!
3. Experience Hawaiian Culture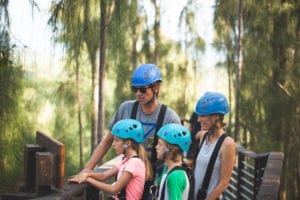 One of the best parts about ziplining at CLIMB Works is that you'll get to experience Hawaiian culture. Not only is your ziplining journey fun, but it's educational! Along your zipline tour, you'll get to learn all about the history of Hawaii, its culture and its farming through educational exhibits set up along the tour. You will get to see how Hawaii has evolved throughout the past few hundred years, from Historic Hawaii, to the Plantation Era, to today.
4. Safe Adventure
Ziplining in Oahu might sound nerve-wracking at first, but you can take comfort in the fact that it's completely safe! At CLIMB Works, we have years of experience building and operating courses around the country, so your experience is unmatched in quality and safety. Your safety and enjoyment is our top priority. Your tour starts off with a 'practice line' to get everyone comfortable on the zipline before taking the 10-minute, 2-mile ATV ride to the top of the mountain. During your ride, you'll go by farms, through the jungle and up the mountainside! On your zipline adventure, there will be 8 side-by-side zipline runs. Grab a friend and see the stunning views while you're next to each other! The lines range from 500 to 2,400 feet. The fun doesn't stop at just ziplines though! On the tour, you'll run into tappels, sky bridges, scenic boardwalks and even some surprises. The adventure takes about 3 hours to complete, and water will be provided with you along the way!
You'll have to see for yourself how amazing ziplining in Oahu is! From seeing incredible views, to experiencing Hawaiian culture, it'll be a moment you remember for years to come. Learn more about ziplining in Oahu at CLIMB Works and start planning your trip today!