Make the most of your visit to Oahu's North Shore by combining a ziplining adventure at CLIMB Works with a visit to Hawaii's top attraction, the Polynesian Cultural Center! Whether you have limited time on the North Shore or just want to save some money, these packages offer the most economical and convenient way to maximize your vacation time! Here are the top 4 reasons to book one of our Polynesian Cultural Center Packages:
1. Significant Cost Savings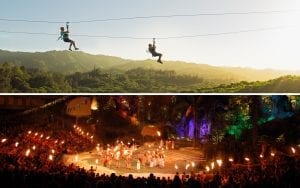 Since most visitors to the North Shore want to visit both our amazing zipline attraction and the Polynesian Cultural Center, we are pleased to offer a set of awesome Polynesian Cultural Center Packages! While you can certainly purchase tickets to each of these separate attractions on your own, you can save a significant amount of money with our packages. When you consider the savings for each member of your family, you can see how these packages are such a tremendous value! As a bonus, you will have more money to spend on other areas of your vacation such as shopping and dining out!
2. Convenient Ticket Packages
Another top reason to book one of our Polynesian Cultural Center Packages is for the convenience! These packages make your vacation planning process much easier, especially since you also need to sort out flight options, accommodations and other travel arrangements! The best part is that CLIMB Works and the Polynesian Cultural Center are just 5 minutes apart, and you can choose to book both attractions on the same day OR on different days! If you have just one day to visit the North Shore, this makes it easy to make the most of your time! Regardless of whether you visit on the same day or different days, you receive the same low package rate!
3. Experience 2 Incredible Attractions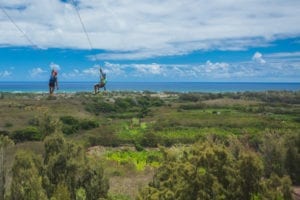 Our Polynesian Cultural Center Packages allow you to visit 2 of the most incredible attractions in Hawaii! Our action packed zipline tour provides 3 hours of adventure on Oahu's longest ziplines, ranging from 500 feet to nearly half a mile long! Your journey begins with a fun ATV ride to the ridgetop, where you set off on 8 world class dual lines, 3 sky bridges and 2 controlled rappels! During your adventure, you will also learn about Hawaii's rich history and culture while enjoying the constant panoramic views of the North Shore. The Polynesian Cultural Center offers a unique opportunity to explore the rich heritage of the Pacific Islands with 6 island villages, canoe rides, a tram tour, a "Hawaiian Journey" cinematic experience and one of the best luaus on island!
4. Fun for the Entire Family
Both the ziplines at CLIMB Works and the Polynesian Cultural Center are fun for the entire family! The only age restriction for our ziplines is that you must be at least 7 years old to participate.The lower and upper weight restrictions are 85 pounds and 270 pounds, but kids under 85 pounds and at least 7 years old can still ride with a guide or a sibling. The Polynesian Cultural Center is fascinating for all ages, and kids will especially love the evening show that comes complete with a fire twirling performance!
Check out our Polynesian Cultural Center Packages today to take advantage of these excellent benefits and cost savings! We look forward to seeing you soon at CLIMB Works!