Ziplining in Oahu Hawaii is a an indescribable experience. When you go on the zipline canopy tour at CLIMB Works Keana Farms, you're in for the adventure of a lifetime. If it's your first time ziplining, you probably have a few questions about what to expect. To help you prepare, we went ahead and answered the top questions about ziplining in Oahu Hawaii:
What should I bring?
If you've never been ziplining in Oahu Hawaii, it can be difficult to know what you should bring. That's where we come in. For clothing, we recommend bringing comfortable clothes like what you would wear to work out. Rain can be quite unpredictable in Hawaii and come and go very quickly, so make sure you wear something you don't mind getting wet. You'll need a pair of close-toed shoes as well. Also, make sure to bring any necessary medications with you, like an inhaler or an epi-pen for safety's sake. If you have long hair, bring something to pull it back. We provide water for you along the way, so you won't have to worry about bringing anything to keep you hydrated. If you have any questions about what else you should or shouldn't bring, call us at 808-200-7906.
How good of physical shape do I need to be in?
Many people think you have to be in top shape to enjoy ziplining in Oahu Hawaii, but that isn't the case. We've had 7 year olds to 90 year olds participate in our tour! It does not require any special strength, though you will be required to stand some of the time, walk on platforms and climb a few staircases. Unless you have recurring injuries, recent surgeries or difficulty lifting your legs to your waist, you'll be completely fine ziplining!
What happens if it rains?
At CLIMB Works Keana Farms, we don't let a little rain ruin our adventure! We operate rain or shine. However, to guarantee your safety, we do not operate during thunderstorms. In case severe weather occurs at some point during your zipline tour, like thunderstorms, high winds or heavy rains, each platform has a way to get everyone safely off the tour and onto the ground. Depending on how far you made it through the course, we will reschedule or give you a partial refund.
How safe is it?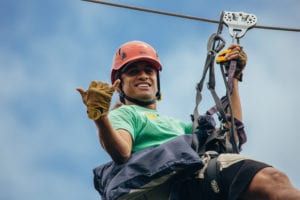 When you go ziplining in Oahu Hawaii, you can take comfort in knowing it is completely safe! Your safety is our top priority. We have trained guides who continuously go through safety trainings and will take you through the tour. Throughout the tour, you'll be safely secured, and our guides will take care of all the equipment transfers to hook you up to the zipline and other parts of the course. In terms of our course, we team up with structural engineers, professional arborists and other industry professionals to go above and beyond safety standards. You won't have to worry about anything besides having a great time.
What can I expect during the zipline tour?
Your zipline tour is a 3-hour guided tour on 8 side-by-side zipline runs ranging from 500 feet to nearly half a mile long. Not only will you get to zipline, but there will be a 2-mile ATV ride to the top of the mountain, during which you'll pass farms, go through the jungle and ride up the mountainside. There will also be rappels, sky bridges, scenic boardwalks and more! You can expect to have an unforgettable time.
Find more answers to popular questions about ziplining in Oahu Hawaii and start planning your visit to CLIMB Works Keana Farms!