Ziplining with CLIMB Works Keana Farms offers you the experience of a lifetime! You'll see beautiful views of the North Shore, explore Keana Farms, get a taste of Hawaiian culture and more. We want your zipline adventure to be nothing less than perfect, so we've come up with ways you can get ready to zipline! Learn how to prepare for your Oahu zipline adventure with CLIMB Works:
What to Wear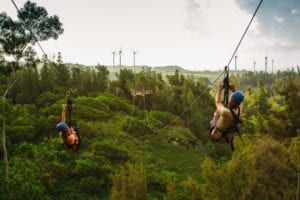 Many people ask us what they should wear when they come ziplining, and while it's ultimately up to you, we recommend wearing comfortable clothes. You're going to want to be comfortable as you soar through the air and enjoy the gorgeous scenery! The only requirement is that you wear closed-toe shoes. We recommend sneakers or something comfortable since there is a little bit of walking. It's also important to dress appropriately for the weather. Rain comes and goes quite often in Hawaii, so wear clothes that you wouldn't mind getting a little wet. We don't recommend you wear skirts, dresses or baggy clothes. If you have long hair, we require that you pull it back for safety reasons, so it doesn't get caught on the zipline.
What to Bring
We want to make sure you have everything you need for an amazing time! While it's OK for you to bring cameras, GoPros or phones to capture your adventure, do so at your own risk. If you bring them, we recommend having straps or secure pockets for them so there's no chance of losing them. We do offer helmets with GoPro connectors. We also take pictures along your ride that you can purchase afterward! Glasses and sunglasses can be worn on the zipline, and remember to bring any necessary medications like inhalers or epi-pens. The most important thing to bring, however, is a good attitude! You're going to have the time of your life on your Oahu zipline adventure, so be ready and excited to soak in all that the experience has to offer.
What to Leave at Home
We've told you what to bring; now let's go over a few things not to bring. Some things that are not allowed include dangling jewelry, valuables and unsecured items that can fall out while your ziplining. We don't want to take the chance of you losing any important items and it interfering with your adventure! We provide lockers for everyone who visits to secure your phone and keys while you're ziplining, but any other valuables should be left at home or in the car.
Be Ready for an Adventure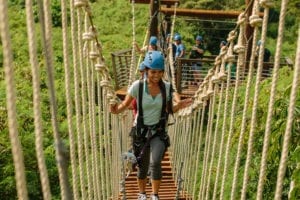 The most important way to prepare for your Oahu zipline adventure with CLIMB Works Keana Farms is to make sure you're ready for an adventure! We want you to be excited about exploring the area and seeing things from a bird's eye view. You'll experience 8 incredible zipline runs, along with sky bridges, scenic bridges and even some surprises! The more excited you are, the better time you'll have.
Now that you know how to prepare for your Oahu zipline adventure, it's time to plan it! Learn more about the zipline tour with CLIMB Works Keana Farms and book your trip today.