When you're on vacation, you want to take pictures to preserve the memories. You may also want to share these pictures with all of your followers on social media! That's why we want to share some of the best places on Oahu to take pictures. Here are 7 picture-perfect places to visit in Oahu:
1. Makapu'u Lighthouse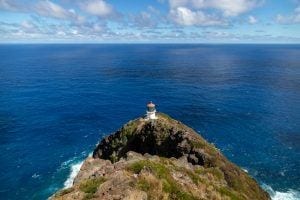 The Makapu'u Lighthouse has a red roof and sits right in the middle of rocks. To get the best vantage point of the lighthouse for your picture, you should hike the lookout trail. Most of it is paved, making it a fairly easy hike. The platform at the top gives you a great view of the lighthouse and the ocean in the background. During the right season, you might even see humpback whales in the water!
2. Makapu'u Tide Pools and Blowhole
The Makapu'u tide pools and blowhole are in the same area as the lighthouse, but you will have to go on an unmarked trail to get there, so be careful! The water in the tidepools is a deep, clear blue. Water shoots out of the blowhole on windy days, about 30 to 40 feet in the air. You'll definitely want to try to get a picture in this area, but be mindful of the tides as some waves can crash very close or even onto the rocks you're standing.
3. Manoa Falls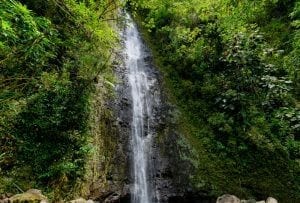 To get to Manoa Falls, you will have to hike a 1.6 roundtrip path. You'll go through beautiful greenery, and once you're at the falls, you'll definitely want to have your camera ready. Water trickles over the rocks at 150 feet into a huge pool of water.
4. Lanikai Beach
You can't come to Oahu without going to a beach! Lanikai Beach has crystal clear turquoise water that makes for an amazing picture with white sand along the shore line. You may not even believe you took your own pictures due to how beautiful this area is.
5. Koko Head Crater Trail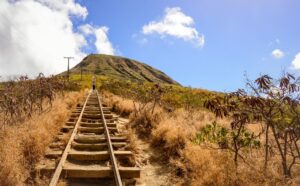 Koko Head Crater Trail makes for a really cool picture, and it is also known as Koko Head Stairs of Doom. There are more than 1,000 step-like boards connected by a railroad tie that create this unique space. If you really want some beautiful pictures, you can hike your way to the top!
6. Waikiki Beach
You'll definitely want a shot or two of Waikiki Beach, one of the most famous places to visit in Oahu. If you enjoy taking pictures of nature and manmade structures meeting, get out into the water and take a picture of the buildings and the beach. You could always stand on the beach and get a picture of the buildings, beach, and the water. No matter what you decide to take a picture of, it will be gorgeous!
7. Spitting Cave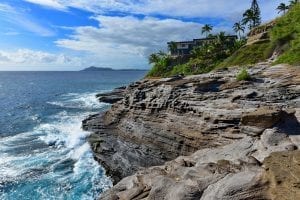 Spitting Cave is a great place to visit in Oahu. The rocks have formed from hot lava meeting the cool water of the sea. A small inlet feeds into this area, and when the water is rough, you will have great views of water being splashed against the rocks. With the dark rocks against the bright blue of the ocean, you'll have incredible pictures to post on all of your social media!
Another great place for Instagram-worthy pictures is of you ziplining at CLIMB Works Keana Farms! You'll have great views of Oahu's North Shore, which are perfect for posting. Find out more about ziplining at Keana Farms and book your tour today!