When you go ziplining with CLIMB Works Keana Farms, you'll have the chance to explore one of the most beautiful places in the world. The only thing that can make your experience more special is sharing it with the ones you love. Bring the whole family along for a zipline adventure you won't forget! Here are 4 reasons our Oahu zipline tour is perfect for families:
1. Spend Quality Time Together
The main reason our Oahu zipline tour is a great activity for families is because it gives you the opportunity to spend quality time together. Between school, work and other distractions of everyday life, it can be difficult to find time to gather everyone in one place. Our zipline tour provides the perfect escape from the real world, where you don't have to focus on anything but enjoying each other's company.
2. Improve Communication Skills
Our Oahu zipline tour is sure to improve your communication skills! As everyone in the family grows older, sometimes communication can stray because everyone gets so busy. Our Oahu zipline tour is a great way to reconnect with each other! We have dual ziplines, so you can soar through Hawaii with the person of your choice beside you. Our lines are also extra quiet, so you'll be able to talk during your experience! You'll have plenty to talk about both during and after your adventure is over.
3. Create Wonderful Memories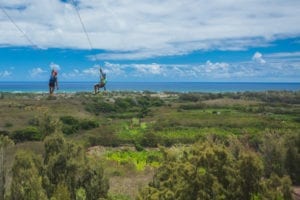 There is no doubt that you will create wonderful memories throughout your time ziplining with CLIMB Works Keana Farms. Your family will have a blast on our 8 side-by-side zipline runs as you take in gorgeous views of North Shore's famous beaches, farms and mountains. You'll even get to learn about Hawaiian culture while you're here! We have educational exhibits set up along the tour that give you a better look Hawaii's history, culture and farming. You'll get to see how Hawaii has changed over the years, from Historic Hawaii, to the Plantation Era to today. Both parents and kids will love it! When you share the experience with your family, you'll make memories that you can cherish forever, and you'll have something to talk about for years to come.
4. Guaranteed Safety
When you go on our Oahu zipline tour, you don't have to worry about anything other than having an amazing time! Ziplining can be nerve-wracking at first, but you can take comfort knowing that your safety is guaranteed. At CLIMB Works, we have years of experience building and operating courses around the country, and we are proud to offer an experience that is unmatched in quality and safety. It's an activity you can feel comfortable doing, and not only that, but feel comfortable bringing your kids along. The zipline tour lasts about 3 hours, and we provide water along the tour to keep you hydrated. Keep in mind that children must be 7 years or older to participate in the tour.
An incredible adventure awaits you in Hawaii. Learn more about our Oahu zipline tour and plan your trip today!