If you closed your eyes and imagined ziplining in paradise, there is a good chance that it would resemble our zipline tours at Oahu's North Shore! Our 3-hour guided zipline tours not only feature 8 world-class dual ziplines, but some of the most breathtaking scenery in the world! Here are the top 4 reasons why Oahu's North Shore is the perfect place to go ziplining in Hawaii:
1. Fabulous Weather Conditions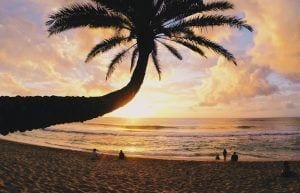 One of the awesome things about Oahu's North Shore is that you can enjoy fabulous weather conditions all year long, so ANY day is an awesome day to go ziplining with CLIMB Works! If you do happen to experience any rain on the day of your scheduled tour, there is no need to worry as our operation runs rain or shine! In fact, Hawaii is known for short bursts of rainfall but that doesn't slow us down one bit! If you are also planning to surf during your vacation, note that the big wave surf season on the North Shore starts in November and ends in February. The big waves subside during the summer months for ideal beach going conditions!
2. Spectacular Scenery
The North Shore of Oahu is not only famous for surfing competitions, but for its spectacular scenery that has to be seen to be believed! While you can enjoy the views of the gorgeous beaches and lush mountains by simply driving around, there is nothing like the bird's eye views from our zipline tours! While ziplining in Hawaii with CLIMB Works, you will start your adventure 410 feet above sea level and have constant panoramic views of the North Shore's beaches, mountains and picturesque farms! Our team will even take photos of you during the most scenic parts of the tour which you can purchase as a special souvenir to take home with you!
3. Transportation available from Waikiki Beach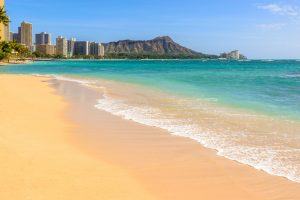 If you are spending most of your vacation in Waikiki Beach, you will be delighted to know that CLIMB Works is just a 60 to 90 minute drive from the Honolulu area! While you can drive your own personal vehicle, we are also pleased to offer packages that include our zipline tour with roundtrip transportation to Waikiki. Enjoy a pleasant drive along Oahu's windward coast as you travel up to the North Shore in a 15-passenger, air-conditioned shuttle. The drive takes approximately 60 to 90 minutes depending on traffic, giving you just the right amount of time to get pumped up about ziplining in Hawaii!
4. Easily Combined with the Polynesian Cultural Center
Many folks traveling to Oahu's North Shore are also interested in visiting the Polynesian Cultural Center, which is just a few miles away from CLIMB Works Keana Farms! This fascinating attraction is a Polynesian-themed theme park and living museum where you can enjoy an immersive cultural experience among 6 island villages, canoe rides and an authentic Polynesian luau! We have made it easy for you to experience the Polynesian Cultural and our zipline tour with a pair of money saving Polynesian Cultural Center packages!
Now that you know why Oahu's North Shore is the perfect place to experience ziplining in Hawaii, learn all the details about our zipline tours today to plan your adventure! We look forward to seeing you soon at CLIMB Works Keana Farms!