Hiking in Oahu is a favorite past time of the locals and tourists. One of the coolest things you can see on the island are lighthouses. You definitely don't want to miss any of these lighthouse hikes on Oahu! The scenery to get to these man made structures is just as beautiful as the structures themselves. Look at these top 5 lighthouse hikes on Oahu you have to try:
1. Barbers Point Lighthouse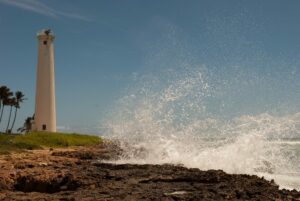 Barbers Point Lighthouse is on a quiet part of Oahu. The original Barbers Point lighthouse was 42 feet tall and built in 1888. In 1930, this tower was deteriorating, so a new lighthouse was commissioned. It stands 72 feet tall and uses electric light now. You can't go in the lighthouse, but seeing it stand on the beach is incredible in itself. To get to the lighthouse, you just take a short walk on the beach. Barbers Point lighthouse is right behind Germain's Luau, but there are signs posted telling travelers to stay off their property. So just park at the beach and walk down to the lighthouse!
2. Ka'ena Point Lighthouse
If you want to see the beauty of the island while learning about the history of Oahu, you should visit Ka'ena Point Light. The Bureau of Lighthouses decided the Ka'ena Point Light would be unmanned. Materials were brought in, and a concrete lighthouse was built. Erosion and vandalism over the years damaged the lighthouse, so a light was eventually put on top of a metal pole. You can access Ka'ena Point from two sides, but either way you decide to go, you'll have a great view of the beach and the ocean. Ka'ena Point is a great starting point for lighthouse hikes!
3. Makapu'u Lighthouse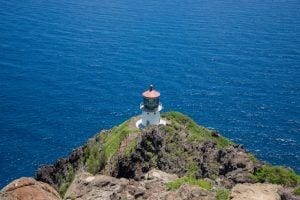 Known as one of the most popular lighthouse hikes on Oahu, the Makapu'u lighthouse was built in 1909. The trail to get to this lighthouse is paved, enabling almost anyone to see this incredible structure. You'll also get great views of the southern and eastern shores of Oahu from this vantage point. The trail to get to Makapu'u lighthouse is only 2 miles roundtrip, making it a simple hike!
4. Diamond Head Lighthouse
While the Diamond Head Lighthouse isn't open to the public, it is still in use today. This lighthouse was built in 1899. To get to the lighthouse, you'll take the Diamond Head trail, which was originally used by the United States military. This lighthouse is still in use today, with electric lights. It is used as the end of the biennial Transpac Yacht Race from Long Beach, California.
5. Pyramid Rock Lighthouse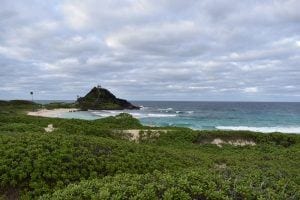 Pyramid Rock lighthouse is another uniquely shaped lighthouse. Instead of a tall cylindrical tower, this square lighthouse is on top of Pyramid Rock and is painted black and white. To get to the lighthouse, you'll walk along Pyramid Rock Beach towards Pyramid Rock. You'll then walk up stairs to get to the lighthouse. You'll also have an incredible view of the beach and the ocean.
You'll love going on any of these lighthouse hikes on Oahu. The rich history that comes with seeing these structures is just as incredible. After you go on a lighthouse hike on Oahu, go on a zipline tour with us to see even more beauty on Oahu!