Going ziplining in Hawaii is the adventure of a lifetime. When you zipline with CLIMB Works, we guarantee you have an incredible time full of fun, gorgeous views and education. To learn more about our zipline tour, check out 5 things you'll experience when you zipline in Hawaii with CLIMB Works:
1. Longest Ziplines in Oahu
At CLIMB Works Keana Farms, you'll get to experience the longest ziplines in Oahu! Our ziplines range from 500 feet to nearly half a mile long. We have 8 side-by-side zipline runs that are not only long, but also high so you can see the gorgeous scenery below you! They are also extra quiet, so you won't have to worry about any loud noises bothering you on your adventure.
2. ATV Ride
Not only will you get to zipline, you'll get to experience an exciting ATV ride as well! When you zipline in Hawaii with CLIMB Works, your tour will begin with a 2-mile ATV ride to the top of the mountain. On this 10-minute ride, you'll pass by farms, go through the jungle and get to see all the best views that Hawaii has to offer!
3. Lots of Adventure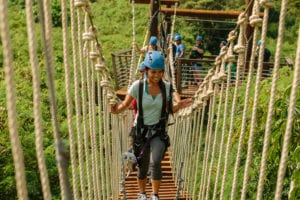 One thing is for sure: Our zipline tour has lots of adventure! From soaring through the mountains, to crossing sky bridges, the excitement never ends. There are rappels, sky bridges, scenic boardwalks and more! Not to mention, we even include a few surprises along the way for our visitors that you are sure to love. All of the adventures on the tour are designed to challenge you in a safe and controlled way and allow you to step out of your comfort zone to enjoy the experience.
4. Hawaiian Culture
You'll have an amazing time when you zipline in Hawaii because you'll get to have fun and learn some things along the way! Our zipline tour includes ways for you to experience Hawaiian culture and learn about the area. There are exhibits set up along the tour that give you the chance to see how Hawaii has evolved the past few hundred years, from Historic Hawaii, to the Plantation Era, to how Hawaii is today. You'll also have the opportunity to explore Keana Farms, which produces more than a million pounds of produce each year. You'll see papaya, apple bananas, cherry tomatoes and more, and you'll even get to taste some of it!
5. Gorgeous Views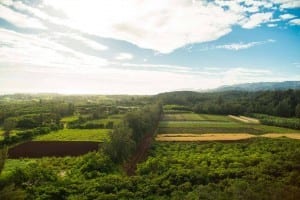 Of course one of the best things you'll experience at CLIMB Works Keana Farms is a gorgeous view. Instead of driving up to see North Shore's famous beaches, you will get to see them from a bird's eye view from the mountains! On the tour, you'll have constant panoramic views of North Shore's famous beaches, mountains and picture-perfect farms. Nothing compares to the beauty of Hawaii, and you'll have a front row seat to it all.
What are you waiting for? Plan a zipline adventure with CLIMB Works and experience all this and more! Learn more about what you'll get when you zipline in Hawaii with CLIMB Works and get ready for the experience of a lifetime.