You will never run out of things to do when you visit Oahu, Hawaii. Depending how long you stay, you might not have time to fit everything into your schedule. That's why we've made our own list that helps you narrow your options down to only the best activities. Here are 4 can't-miss things to do on Oahu's North Shore:
1. Zipline at CLIMB Works Keana Farms
Of course number 1 on our list of things you have to do while you're in the area is zipline at CLIMB Works! Our zipline tour is one of a kind. It lasts for 3 hours and is full of fun. Not only will you see gorgeous views from Oahu's longest ziplines, but you can ride side-by-side with the person of your choice, cross sky bridges, rappel off platforms and ride an ATV! What's unique about our tour is that we provide ways for you to learn as well. You get to explore Keana Farms and even taste some fresh fruit, in addition to discovering more about Hawaii culture and history. It's an experience you won't forget.
2. Take a Helicopter Tour
Another great thing to do in Oahu's North Shore is take a helicopter tour. It's the next best way to see the sights after ziplining. There are a variety of helicopter tours in Oahu for you to choose from. One of the best tours is the Oahu Sunset Experience. The tour departs from the Kalaeloa Airport and takes you on a full circle tour of Oahu. Everything is even more beautiful during the sunset. Some of the sights you'll see include Hanauma Bay, Makapu'u Lighthouse and Ka'a'awa Valley. Helicopter tours are great for people of all ages!
3. Hike Waimea Valley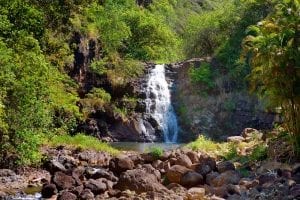 One activity you don't want to miss is hiking — especially hiking Waimea Valley. The Waimea Valley Trail is a 1.9-mile out and back trail that is great for all skill levels! It is considered more of a leisurely stroll than a hike. You get to walk through the botanical gardens full of wildflowers and enjoy the sights. The star of the show, however, is the gorgeous 30-foot waterfall you will see on your hike. Not only can you admire the beautiful waterfall views, you can swim in the pool at the bottom! It's a great way to cool off after your walk.



4. Visit the Polynesian Cultural Center
At the Polynesian Cultural Center, you can spend the day exploring the heritage of the Pacific Islands. You can visit authentic island villages and talk with natives from 6 Pacific cultures, enjoy the royal Ali'i Luau feast that includes a variety of mainland dishes along with island entertainment, and stay for the evening show that's an action-packed story of passion ignited by fire, song and dance. You can even visit the Hukilau Marketplace for a shopping and dining experience you won't forget. The Polynesian Cultural Center is a great place to go to experience Hawaiian culture!
Now that you know all the best things to do on Oahu's North Shore when you visit, it's time to plan your trip! Start by booking our zipline tour, and get ready for the adventure of a lifetime.