While it can certainly be nice to stay in a luxury hotel in Honolulu, one of the best ways to experience the natural beauty of Hawaii is by camping! Just imagine waking up to the delightful sound of crashing waves on a white sand beach just steps away from your campsite! Whether you bring your own tent or rent one on the island, there are several places where you can set up camp near the North Shore! Here are 3 convenient and fun places to go camping in Oahu that are near our zipline tours:
1. Malaekahana Beach Campground
One of the closest campgrounds to our zipline tours is the Malaekahana Beach Campground, which is less than a half mile away from CLIMB Works Keana Farms! This lovely campground offers comfortable campsites where you can fully enjoy the natural surroundings of the North Shore. Altogether, there are more than 74 campsites with a wide selection of spacious sites and open areas with picnic tables, water spouts and fire pits. There is even a Camp Store in the front office trailer where you can purchase supplies to enhance your campground experience. Whether you need firewood, snack items, ice, batteries or souvenirs, the Malaekahana Beach Camp Store has you covered!
2. Kualoa Regional Park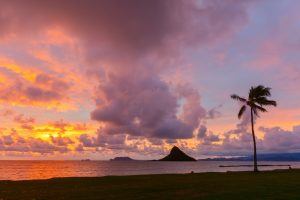 While traveling just a bit further south of the Ahupuaʻa ʻO Kahana State Park, you will find another excellent camping opportunity at the Kualoa Regional Park! There are actually 2 campgrounds that occupy this 150 acre peninsula on Kualoa Bay, which are simply called Campground A and Campground B. The smaller, more shaded Campground A is considered a hidden gem and features 7 campsites for your enjoyment. Note that this campground is closed during the summer after Memorial Day Weekend for a children's camp and reopens on Labor Day weekend. Campground B has 14 campsites with bathrooms and outdoor showers, as well as a stunning view of the iconic Oahu islet known as the Chinaman's Hat! While camping in this area, you may also want to visit the Heeia fishpond and Kualoa Ranch, which was a filming location for Jurassic Park!
3. Ahupuaʻa ʻO Kahana State Park
Another convenient place to go camping in Oahu that is near our zipline tours is Ahupuaʻa ʻO Kahana State Park! This popular campground is located on the windward side of Oahu, between Kane'ohe and Laʻie, and just a short drive from CLIMB Works Keana Farms! The campground is just one of a few publicly owned ahupuaa, which is a traditional Hawaiian land division that connects the mountain to the ocean. There are just 10 beach campsites available, so you will want to make your reservation as soon as possible! While camping at Ahupuaʻa ʻO Kahana State Park, you can enjoy hiking trails, a beach that is great for surfing and archaeological sites such as the remnants of a Native Hawaiian temple house!
Now that you know some of the convenient and places to go camping in Oahu, check out all of the information about our thrilling zipline tours to complete your Hawaii adventure! We look forward to seeing you soon at CLIMB Works Keana Farms!