Come experience one of the best outdoor adventures in the Smoky Mountains with us! When you go mountain biking at CLIMB Works, you can see the Smoky Mountains in a whole new way as you're racing through. If you've never been mountain biking before, don't worry — you'll still have tons of fun! To help prepare you for your biking adventure, we've put together a guide of everything you need to know before going mountain biking in the Smoky Mountains:
About the Trail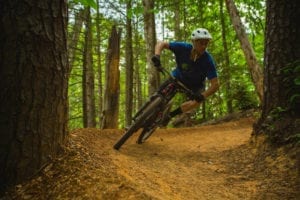 When you go mountain biking in the Smoky Mountains, you'll ride on our mountain biking trail, El Regis, which is an intermediate 2-mile loop. The first ⅓ of the trail you'll be biking uphill, the second ⅓ is a smooth flow trail, and the last ⅓ is all downhill. Sounds simple enough, right? Since it is a one-way loop, you won't even have to worry about oncoming traffic! Because of the mountainous terrain, our trail is considered an intermediate trail and might be intimidating for first-timers. However, our goal at CLIMB Works is to push you a little out of your comfort zone, so we encourage all beginners to give it a try! We have bike experts available to give you pointers and help you have an amazing experience.
Age Requirements
Mountain biking in the Smoky Mountains is fun for everyone! For your safety, we require all riders to be at least 12 years old to participate. We even have youth bikes available! Riders 12 years old to 15 years old must have an adult accompanying them on the trail. Riders 16 and up can ride on the trail without an adult riding with them, but an adult must be waiting onsite for everyone under 18.
What to Bring
You don't need your own bike to go mountain biking with us! We have high-end Trek mountain bikes that provide increased stability and control for both men and women. We also have youth bikes available for children 12 and up. We recommend renting one of our top-notch bikes when you ride our trail because all our rentals are inspected before and after being ridden and are guaranteed to be in great condition! We've also simplified our gear controls on the bikes so that both beginners and experts can shift gears easily. The only thing you need to bring with you is a good attitude and willingness to be up for a challenge!
Combo Packages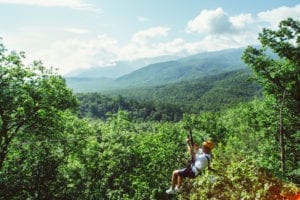 When you go mountain biking in the Smoky Mountains at CLIMB Works, you'll also have the opportunity to try our amazing zipline canopy tour! On our canopy tour, you'll see the Smoky Mountains from new heights as you soar through the trees on 9 world-class ziplines. To maximize your outdoor experience, book one of our combo packages that allow you to save money on your mountain biking and ziplining adventures! And that's not all. We've also teamed up with Smoky Mountain Outdoors to include a whitewater rafting trip in our combo packages! Now, you can spend one day of your vacation mountain biking in the Smoky Mountains and another rafting down the Pigeon River! You don't want to miss out on this incredible opportunity to enjoy the great outdoors.
Learn more about the basics of mountain biking in the Smoky Mountains and start planning your adventure today!