Last month, we had the pleasure of hosting travel interviewer Meredith Lofton and the crew from VisitMySmokies.com at CLIMB Works in Gatlinburg, TN! As part of the Insider's View video series, Meredith spoke with one of our guides, Doran, and got a behind-the-scenes tour of our new ziplines in the Smoky Mountains. You can watch the complete interview below:
Natural Beauty Bordering the National Park
As Meredith notes in the video, the scenery at CLIMB Works is stunningly beautiful! We border the Great Smoky Mountains National Park on three sides, so our guests are immersed in the same natural beauty that attracts over 11 million visitors to the park each year.
The views from our new dual-line Mountaintop Zipline Course are especially breathtaking because the lines are even higher and longer than our Treetop Course. Guests will enjoy unparalleled 360 degree vistas as they soar above the trees. CLIMB Works allows guests to use GoPros and cameras (as long as they are secured), so you can capture all of the gorgeous panoramas while you zipline. We also take photos for guests to purchase if you'd rather just enjoy the tour!
Learn About the Smoky Mountains
When you're not flying through the sky on our ziplines in the Smoky Mountains, the guides at CLIMB Works will share some fascinating information about the area. During our Mountaintop Tour, guests will hear about the history of the Smokies, including its Cherokee past and the establishment of the national park. In the Treetop Tour, your guides will teach you all about the incredible plants and wildlife that call the Smoky Mountains home. Don't blame us if you accidentally learn something educational during your vacation!
No Prior Experience is Needed
The great thing about ziplining at CLIMB Works is that just about anyone can do it! As long as you're over the age of 7, in good health, and in the proper height/weight range, you should be good to go. Unlike some other courses, the ziplines at CLIMB Works have an automatic braking system, so guests can enjoy the ride without worrying about hand braking at the right moment.
Hours of Adventure to Enjoy
It's not hard to spend the whole day at CLIMB Works! In addition to our zipline courses, which both take between 2 to 2.5 hours to complete, CLIMB Works is home to an awesome mountain biking trail. After your adventure on our ziplines in the Smoky Mountains, you can rent one of our bikes and zoom through our EL Regis Trail, a two-mile loop that cuts through lovely forest scenery.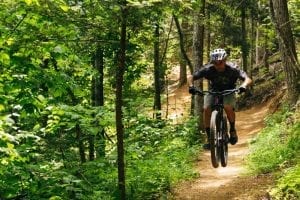 If you're looking for even more fun, you can pair your ziplining and/or mountain biking expeditions with an exhilarating white water rafting trip on the Pigeon River. CLIMB Works has partnered with Smoky Mountain Outdoors to offer a special combo package for guests who want a truly unforgettable vacation experience. As the largest rafting company in the area, Smoky Mountain Outdoors is famous for its Upper Pigeon River rafting trips, which feature about 70 rapids ranging from Class I to Class IV.
To start planning your next visit to CLIMB Works, check out our money-saving Adventure Packages!