Love getting out there and exercising? Want to check out the mountains? What better way to see nature and get your workout in than trying e-biking? In the woods of the Smoky Mountains, we have a biking trail that beginners and experienced riders will enjoy. We've put together a list of things to know about our new mountain e-biking in Gatlinburg.
1. Not Just for Experts
Our trail isn't designed just for experienced riders. Beginners will be pushed out of their comfort zone, but the trail isn't impossible for them. Professional guides will walk you through the trail, teach proper techniques, and provide personal instruction. You can also go at your own pace since the trail is designed to go one way, meaning you won't have to worry about oncoming traffic! If you are an experienced mountain biker, don't worry! This trail isn't only for beginners either. We have rollers, berms, logs rides, bridges, and incredible wood features. Plus, our major feature known as The Curliest is a wooden roller coaster-type feature that you'll want to ride over and over. We have a new stacked loop, 2 mile trail for 2019 that has a moderate uphill section that leads into a fast downhill section with wooden bridges!
While you're trying our new e-bikes, try our new trail too! Our brand new trail for 2019 is our 2-mile "stacked loop" that has an intermediate climbing section leading to a fast, fun downhill ride cutting through pines and crossing wooden bridges.
2. Don't Have to Own a Bike
Don't have a bike? No worries! We offer brand new Specialized E-bikes as rentals for anyone to use. They're full-suspension and pedal-assist to provide help with the uphills and a smoother ride throughout the experience. Youth bikes are available for kids and teenagers 12 years old and up. We ensure our bikes in the best condition since we inspect them before and after they are ridden on the trail.
If you do have your own bike, please feel free to bring and use it! We do not recommend using road, hybrid, or townie bikes since they do not have the same control or traction.
3. Pricing and Packages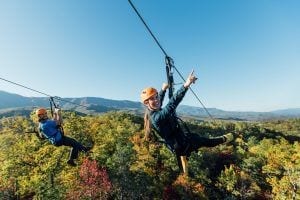 We offer a variety of deals and packages. For our most popular 3-hour experience, you pay $59 per person for 3 hours riding on the trail, renting the bike, and trail options. If you bring your own bike, you pay $25 for 3 hours riding on the trail and trail options. Want to make a day of adventuring? You can package e-biking with other attractions like ziplining or white water rafting and save up to $30 per person! In order to get this packaged deal, you must book the activities together. Have a large group wanting to do some mountain e-biking in Gatlinburg? We offer group discounts depending on how many people are in your group.
4. Restrictions and Requirements
For everyone's safety, we do have restrictions and requirements guests should follow. Bikers must be older than 12 years old, and if kids are younger than 16, they must have an adult riding with them. Every guest must sign a participant form, and guests under the age of 18 must have a parent or legal guardian sign their form. You must weigh less than 250 pounds and be in relatively good health; you should not ride this trail if you have recently had any injuries or surgeries. You cannot ride this trail if you are pregnant or are under the influence of any substance that would impair judgement. These restrictions and requirements are intended to keep guests safe while they ride the trail.
Adventure is out here in the Smoky Mountains and it's calling you! You won't want to miss out on mountain e-biking in Gatlinburg while you're here. If you want even more excitement, browse our learn more about the zipline tours we offer.