One of the best ways to enjoy the outdoors is racing through the mountains on a bike! When you go mountain biking with CLIMB Works, you'll have the opportunity to explore the Smoky Mountains in a whole new way. We've put together a list of some of the many things you'll love about mountain biking in the Smoky Mountains:
1. A Guided First Loop
We want everyone, no matter their experience level, to feel comfortable on our bikes and trail. That's why we always have one of our expert staff take you on a guided tour for your first loop. This is great for beginners to learn the basics of biking and how to handle the terrain and for more advanced riders to learn new techniques and tricks.
2. Great Way to Enjoy the Sights
When you visit the Smoky Mountains, one of the best things to do is take in all the beautiful sights. If you're looking for an adventurous way to do so, you'll love going mountain biking. You'll be right in the middle of all the beauty the mountains have to offer. It's more exciting than your typical sightseeing adventure, and you'll have so much fun doing it!
3. Challenges You
Another thing you'll love about mountain biking in the Smoky Mountains is that it challenges you, especially if it's one of your first times doing it. Part of our mission here at CLIMB Works is to challenge you to step outside of your comfort zone in a safe and controlled environment. Once you overcome the challenge, you'll be inspired to try more new things and exciting adventures! Our mountain biking course combines both adventure and nature. Adventure can bring both excitement and fear, while nature relaxes and calms you. The two together will push you beyond the comfortable, but not to the extreme. You'll have a blast trying something new and overcoming all your fears!
4. The Curliest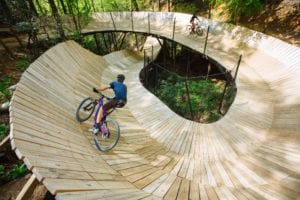 The Curliest is one of the best parts about our mountain biking trail. It's a wooden, roller-coaster-esque structure that adds a whole other level to our course. It's tucked in the heart of the Smoky Mountains, built over a stream, and designed to be pleasing to the eyes, as well as the wheels. Experts will love pushing themselves higher and higher on The Curliest, but it's fun for beginners too! You can take it as slow as you'd like. If you feel comfortable riding your bike on a sidewalk, you will feel comfortable riding The Curliest!
5. You Can Rent a Bike
Another great thing you will love about mountain biking in the Smoky Mountains is that you don't have to have your own bike to enjoy the fun! CLIMB Works has high-end specialized mountain bikes that not only provide increased stability, but control as well. We even have youth bikes available for ages 12 and up. When you rent a bike from us, you're guaranteed to get one in great condition. We make sure all our bikes are inspected before and after being ridden. We've also simplified our gear controls to both new and experienced riders can shift gears easily!
You'll love everything about mountain biking in the Smoky Mountains with CLIMB Works! Book your mountain biking trip today and get ready for an incredible adventure.