Each year, thousands of mountain bikers visit us at CLIMB Works to conquer our exhilarating trail in the foothills of the Great Smoky Mountains. Nothing compares to the thrill of whizzing through the forest with the wind in your face and East Tennessee's breathtaking scenery all around you. While mountain biking is a hugely popular pastime for people all around the world, the sport was invented less than half a century ago. Before your next visit to CLIMB Works Smoky Mountains, check out this brief history of mountain biking in the United States.
Just Friends Having Fun
What is so charming about the origin story of mountain biking is how the sport (and the necessary equipment) developed organically. Mountain biking wasn't a fad cooked up by a large corporation with a massive marketing budget. In contrast, it was just a self-described "goofy hobby" for Charlie Kelly and his pal Joe Breeze. You can watch a great interview with Charlie and Joe about the early days of mountain biking in the video below from Wired:
Back in the 1970s, Charlie, Joe, and a few other friends started racing their bikes down Mount Tamalpais, which is located north of San Francisco, CA. Zooming down the mountain was a blast, but the groups' bikes were taking a beating on the difficult dirt roads.
Before long, the friends started trying out different types of bikes to see which ones were best for rough riding. For a while, the crew used old single-speed paperboy bicycles from the 1930s and '40s that had heavy frames and large tires. These bikes were dubbed "klunkers" and the sport itself was called "klunking."
Beyond Klunkers
Over time, the klunkers started to evolve into more sophisticated bicycles with 10-speed gears, disc brakes, motocross-style handlebars, and thumb shifters. The big breakthrough came in 1977 when Charlie Kelly asked Joe Breeze to build him a "secret weapon," a bike that would help him leave the competition in the dust.
Breeze did not disappoint. The visionary designer created a bike with steel alloy tubing that was strengthened with twin lateral tubes running diagonally across the frames. Kelly had his secret weapon and he soon coined the phrase "mountain bike."
A Global Phenomenon
In the next few years, interest in mountain biking started to spread after a TV crew filmed a race down Mount Tamalpais organized by Kelly. A growing market for professionally made mountain bikes emerged and a number of manufacturers cropped up to feed the demand. Further advances were made to Joe Breeze's design, including precision shifters, finely-tuned suspensions, and lighter carbon fiber frames.
A major moment in the history of mountain biking came in 1996 when the sport was officially added to the Olympic Games. It's hard to believe that just 20 years earlier, mountain biking was just a silly hobby for a group of twenty-somethings living in Marin County, CA!
Mountain Biking at CLIMB Works Smoky Mountains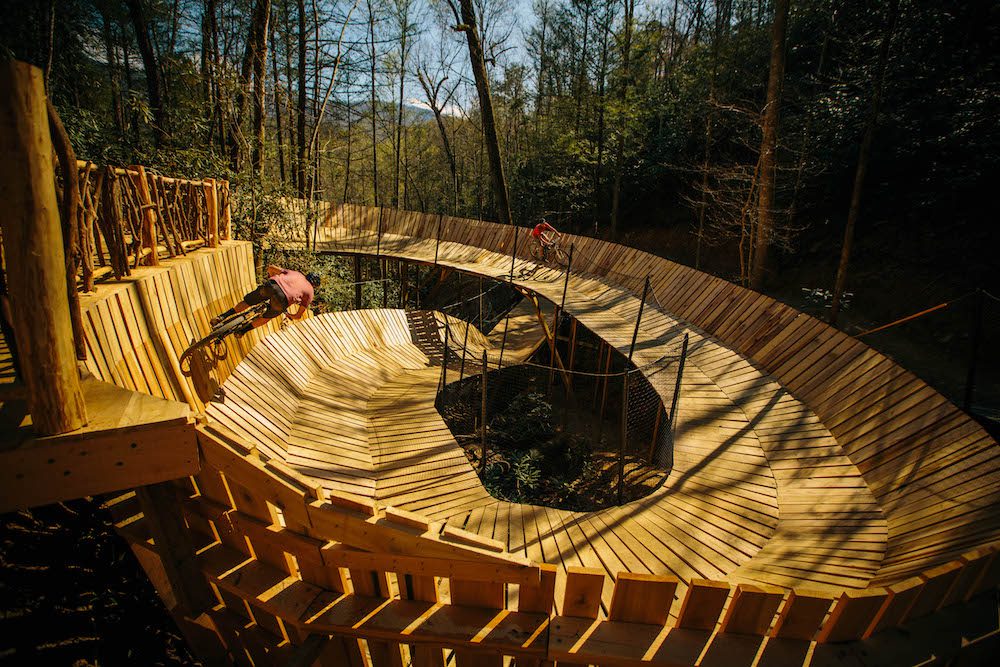 Whether you're an experienced mountain biker or a total novice, CLIMB Works is the perfect place to hit the trail! Located right across the street from the Great Smoky Mountains National Park, our gorgeous 2-mile loop can be as easy or as challenging as you want to make it. A highlight of our trail is "The Curliest," a spiraling wooden course that offers a roller coaster-like experience to bikers.
Guests are welcome to bring their own mountain bikes or they can rent our high-end Trek bikes, which our team will adjust to match your height and weight. For more information about visiting CLIMB Works Smoky Mountains, check out our mountain bike page!